Forest Bathing, Nature Deficit Disorder,
and other phrases I absolutely did not learn in grad school
"I went to the woods because I wished to live deliberately, to front only the essential facts of life, and see if I could not learn what it had to teach, and not, when I came to die, discover that I had not lived." – Henry David Thoreau (Walden)
Walden, Henry David Thoreau's book about spending two full years living alone in the Massachusetts woods, has always fascinated me.  As a teen in English class I remember being perplexed at how lonely and taxing it must be to just be with oneself in the woods for such a length of time.  Now, pushing into my 30's at warp speed with responsibilities snowballing by the minute, I can absolutely see the allure of some time with my own thoughts and a cabin.
What is it, though, about the outdoors that can be so beneficial? How does it affect our overall wellness? Have we been missing out on something important as our society continues to develop in a way that has us indoors at increasing intervals?
Since I could not very well sit and chat with Thoreau himself to learn more about the biopsychosocial benefits of being in nature, I did the next best thing: I called up my friend Kelly.
(Listen to our full conversation here)
Kelly Coble could be described as many things: intelligent, kind, & passionate—all worthy characteristics of a promising clinical mental health counselor.  Unique to her field, however, is Kelly's distinct interest in capitalizing on the benefits of nature as part of her future counseling practice.
Kelly attributes her personal interest in this topic to a combined love for the outdoors and a desire to provide hands-on support for individuals seeking to grow within the counseling experience.
She first became interested in wilderness therapy as a career path when she and one of her college roommates were watching Survivor one evening, and a contestant shared about her own work in the wilderness therapy field.
For Kelly, her next professional steps were obvious after that night.  And though she had been currently working in a research capacity and assumed her professional life would continue that trajectory, Kelly decided pretty quickly that she would pursue counseling—and specifically, counseling with a twist of the outdoors.
It turns out that Kelly is not the only professional with an increasing interest in this topic. 
In the past few years, a wealth of studies have been conducted on nature's health benefits in an effort to quantify how much outdoor time begins to yield positive results in a person's life.  Many of us feel different and lighter after time outside, but what exactly is happening biologically, and how can other people recreate these effects?
An online Yale article from 2020 cites a study of 20,000 people that deemed 2 hours of green space per week is the magic cut-off point at which individuals begin to see results in mental, emotional, physical and relational health [6]. Any less that 2 hours a week provided no benefits whatsoever.
The Yale article also quotes Richard Louv, well-known author of the book The Last Child in the Woods and coiner of the phrase Nature Deficit Disorder [4],  as saying that the research on this topic has leapt from 60 to about 1000 credible studies since his work began in 2005 [5].
This research is likewise beginning to inform both local and large-scale policies.  People are craving the outdoors; the helping field, as well as policymakers, are beginning to take note. Terms such as "forest schools," "park deserts," and "sit spots" are becoming commonplace terms that were unheard of a few short years ago (see definitions list below for discussion of these terms).
The Trust for Public Lands has created a campaign entitled Ten Minute Walk, boasting a plan to ensure that every neighborhood in the United States has access to green spaces within-you guessed it—a 10 minute walk of their homes [5]. This effort is meant to decrease the number of park deserts (communities lacking a green space) nationwide.
It has also been noted that the up-and-coming generation is prioritizing green spaces when seeking real-estate and educational spaces for their children.
The numbers and studies are clear: people want their nature, and as Louv points out, "Nature is not only nice to have, but it's a have-to-have for physical health and cognitive function" [5].
So what exactly are these health benefits we are all raving about?
The short answer is that pretty much every area of wellness is positively impacted by increased exposure to the natural world; time outside equals positive effects on ones' quality of life. Even positive self-esteem makes the list.  Kelly's take on self-esteem from nature is that
I feel small (in the outdoors), but I also remember that the God who made THAT made me.
Such a bigger-than-self response and outlook on the world can not only boost self-esteem, but also provide a sense of calm and connectedness, which is one goal that ecopsychology (the study of human's relationships to the earth) seeks to pursue.
According to the Association of Nature and Forest Therapy Guides, "health benefits attributed to forest therapy include boosted immune function, improved cardiovascular and respiratory health, attention restoration and a reduction in stress and depression" [1].
For an aesthetically pleasing overview of these benefits, I'd encourage you to take a couple minutes to watch the following short video by Florence Williams, author of The Nature Fix, for a quick introduction into the body's natural, positive response to spending time outside [7]. Williams asserts that even a short time outside can boost creativity and productivity later on in the day, and even increase feelings of connectedness to other people in your life.
The Nature Fix – What Happens When You Spend Just 5 Minutes in Nature?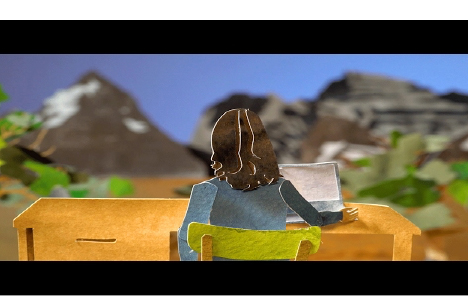 Another resource is this website dedicated to the practice and research of forest bathing (which simply means spending time engulfed in a wooded area), with a webpage listing over 20 different studies discussing forest/nature bathing's effect on areas such as attentiveness, stress reduction, self-discipline, mood improvement, cardiovascular performance, and more.
https://forestbathingcentral.com/forest-bathing-studies/
While stress reduction and other obvious benefits to being outside are all well and good, my favorite, and most intriguing, health benefit from nature was first introduced to me by Kelly during our conversation together.
Exposure to nature literally boosts the immune system.
I immediately had to look this up after hearing about it from Kelly, and the facts check out.  The science behind this claim is as such: The air we breathe in the presence of trees and plants includes chemicals called phytoncides—which are essentially protections that trees emit to deter insects.  These chemicals not only help plants fight disease and ward off bugs, but, when they are inhaled by humans, our bodies respond by increasing white blood cells that kill tumors and viruses.  Research is currently being completed to determine if phytoncides can even prevent cancer of some kinds [3].
Great. But how can I make outdoor time happen for myself?
Another highlight of my chat with Kelly was her description of her open-ended time in the woods each week.
"I take my time. I go In and if I feel like running I'm going to run. If I feel like walking I'm going to walk. If I feel like turning around I'm going to turn around; I don't worry about the mileage. If I feel like sitting on a log and watching a bug, that is what I do…
My life is so structured. I have ADHD…all day long, every day, I am forcing myself to accomplish tasks and get through these things like reading textbooks and writing papers, which are not my strong suits, and are hard.
[Being out in the woods] is like letting your inner child out to go and play, almost. I just do whatever I feel like doing, which is awesome. We don't get to do that very much in that sort of way."
Kelly's weekly time in the woods is so striking to me because, unlike most activities in our adult worlds, it is an opportunity to be unstructured and unpressured.  Kelly meets herself in the woods in the way that she best needs in that day. It is an antidote to the pressures of daily life—which honestly reminds me a lot of the theories of play therapy.  Nature is an adult space to make sense of your world in a non-judgmental, unassuming atmosphere.
Kelly has some practical tips below for getting outside, even for people who live surrounded by concrete, or in a park desert.  But honestly, my biggest tip is to just begin.  Step outside between tasks at work. Pause on the way to your car to feel the temperature of the air and note the noises that are different than your indoor experience.
Pause. Feel. Be.
And somewhere out there one day, maybe you will happen upon my friend Kelly talking to a bug.
Practical tips from Kelly Coble to get yourself outside:
"Everyone can start somewhere with the accessibility of nature."
Even a paved trail is a trail. You don't have to be an experienced, rugged hiker to "go on a hike."
The app All Trails can tell you the nearest trail to your current location
Grow and care for some indoor plants!
Trying to catch up on your favorite show? Watch it outside! Find ways to take your indoor relaxation time on a field trip to the outdoors
Allow the experience to be open-ended
If you must, create an artificial experience that still has some health benefits. Even things ASSOCIATED with nature can trigger that stress reduction response (examples: candles that smell like natural scents, videos of nature, sounds of birds or a cool stream).
Try watching the series on Disney plus called "Earth Moods". Have it playing in the background while you complete indoor tasks
Open windows, open blinds
Take breaks from screens
Words to Define:
Ecopsychology- the study of people's relationship to the natural world around them; seeks to restore that relationship to its intended equilibrium
Nature Deficit Disorder – a term coined by Richard Louv, meaning a lack of exposure to the natrual world, resulting in a variety of biological and psychological disturbances in the human experience
Forest/ Nature Bathing – immersion of self and senses in an outdoor environment.
Sit Spot- a person's chosen place to forest/nature bathe
Wilderness Therapy- a therapeutic intervention involving immersion in outdoor spaces to treat maladaptive behaviors. Encourages adaptability and endurance in clients
Adventure Therapy- similar to wilderness therapy, a therapeutic intervention involving challenging outdoor activities meant to treat maladaptive behaviors.
Park Deserts- a community or environment lacking in green space for activities and outdoor play
Forest Schools- a primary school operating largely outdoors in order to foster play and exploration of the natural world for children
References:
Association of nature and forest therapy guides and programs. Association of Nature and Forest Therapy Guides and Programs. (n.d.). Retrieved March 26, 2022, from https://www.natureandforesttherapy.earth/
Home – Forest bathing central forest bathing shinrin-yoku resource. Forest Bathing Central. (2020, June 9). Retrieved March 26, 2022, from https://forestbathingcentral.com/
Immerse yourself in a forest for better health. NYS Dept. of Environmental Conservation. (n.d.). Retrieved March 18, 2022, from https://www.dec.ny.gov/lands/90720.html#:~:text=Exposure%20to%20forests%20boosts%20our%20immune
%20system.&text=Phytoncides%20have%20antibacterial%20and%20antifungal,natural%20killer%20cells%20or%20NK.
Louv, R. (2008). Last child in the woods. Algonquin Books.
Robbins, J. (2020, January 9). Ecopsychology: How immersion in nature benefits your health. Yale E360. Retrieved March 18, 2022, from https://e360.yale.edu/features/ecopsychology-how-immersion-in-nature-benefits-your-health
White, M. P., Alcock, I., Grellier, J., Wheeler, B. W., Hartig, T., Warber, S. L., Bone, A., Depledge, M. H., & Fleming, L. E. (2019, June 13). Spending at least 120 minutes a week in nature is associated with good health and wellbeing. Nature News. Retrieved March 29, 2022, from https://www.nature.com/articles/s41598-019-44097-3
Williams, F. (n.d.). The nature fix. Florence Williams. Retrieved March 26, 2022, from http://www.florencewilliams.com/the-nature-fix