AdoptionWorks is a fully licensed child-placing agency, which falls under the ministry of ChristianWorks in Dallas, Texas. We provide infant domestic adoption services to birth families adoptive couples and adoptees. We serve prospective adoptive families that live within 150 miles of our home office in Dallas and are able to serve a birth family seeking to make an adoption plan anywhere within the United States. AdoptionWorks has been providing child-placing services since 1967 and has placed over 800 children since that time. It is our belief and philosophy of the agency that open adoption is the most beneficial to all members of the adoption triad and seek to educate and facilitate openness for our clients. AdoptionWorks is proud to offer clinical post-adoption services, including search and reunion services, individual counseling or play therapy for members of the adoption triad and free support groups for children who have been adopted and their parents.
Learn more about choosing adoption for your child

AdoptionWorks wants you to know you have options. We value sharing all of your options with you as an expectant parent. Adoption is not a choice for everyone, but it is a good choice for many. Every adoption plan is unique to you and your child. Choosing to make an adoption plan does not come without a spectrum of emotions. The Adoptionworks Maternity Support Specialist will be with you throughout your adoption planning experience, from pregnancy, to delivery, and post partum support. We value you, your child, and your decision. Through education and free counseling services, we are confident you will be able to make a well informed decision about you and your child and your future. As a fully licensed child placing agency, AdoptionWorks is not only guided by a Christ centered board, but also by state guidelines to ensure that we are following ethical procedures in the care of our expectant families and their children.
Should I tell the father about my adoption plan?
We encourage you to communicate your desire to choose adoption with the biological father. Legally, communicating with the father is in the best interests of you, your child, and the prospective adoptive parents,. Whether or not he is supportive of your decision, it always helps to know where he stands. If a birth father has not been informed of the decision to make an adoption plan, the legal process of the adoption plan could become difficult. More information about this issue will be addressed in your initial meeting with our Maternity Support Specialist.
How much control do I have in the adoption process?
Choosing to make an adoption plan means you are in control of choosing the family you place your child with. We will provide you with information regarding waiting adoptive families within our agency. If we do not have a family that meets your expectations hopes and dreams, we will look within our network of agencies to find other families to present to you. Our Maternity Support Specialist will assist you in making a plan for the time you are in the hospital for delivery and prepare you for the placement of your child into the adoptive home you choose. You will also have support in formulating an open adoption plan which outlines the type of contact you desire with the adoptive family you choose for your child.
Does AdoptionWorks offer any financial assistance?
AdoptionWorks is able to assist with costs directly associated with your pregnancy. Your Maternity Support Specialist will assist you in determining what expenses can and will be covered. Other options and resources for covering your expenses will be explored during your meetings with your Maternity Support Specialist.
Do I have to tell my friend or family that I am pregnant, and that I want to place my baby for adoption?
Regardless of your age, you have the legal right to choose adoption for your child. AdoptionWorks is here to help you through the emotional difficulties an unplanned pregnancy can present. We will be happy to help you find a way to share this news with your parents, friends, or family. We have found that the support of family is a valuable component in the adoption process.
How can I learn more about adoption?
If you are pregnant and would like to learn more about adoption, fill out our contact form, call us, or text us at 214-952-7421. We will set up a meeting to discuss the adoption process and answer any questions you may have.
Post- Placement Support Group
AdoptionWorks has partnered with Lifetime Healing to provide free post placement care to women who have chosen to make an adoption plan for their child. Whether you placed your child one week ago, or years and years ago, we want to invite you to sit knee to knee with other women and experience healing. Our free support group meets once per month on the fourth Thursday from 6:30pm-8:30pm at our Dallas location. For more information, or to RSVP, call us at 214-952-7421, or email us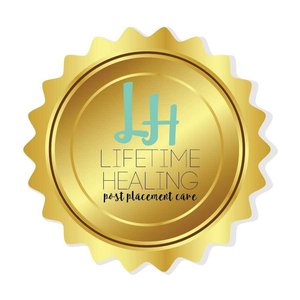 Selecting an adoption agency is a very important decision. You are trusting your agency to make big decisions on behalf of your family. Do your research and explore your options. Look for an agency that has the same philosophy as your family. Choosing AdoptionWorks means you are selecting a Christ centered agency that will provide you with a boutique type experience in your adoption journey. We purposely accept a limited number of families at one time in order to be able to meet the needs of each of our families. At AdoptionWorks you are not a number, your family will receive personalized care and support from our Family Development Specialist throughout your adoption experience. Your adoption journey does not end once you finalize your adoption. Adoption is a lifelong commitment and a lifelong conversation. We are here to guide you throughout your family's journey as your child ages. We can offer services to you and your adoptive child well beyond placement and finalization.
Minimum Criteria:
AdoptionWorks requires that each prospective family meet the following baseline criteria in or apply to work with our agency:
Must be at least 25 years of age.
Must be married for a minimum of three years.*
Must live within 150 miles of our Dallas office.
Must be actively involved in a Christian Church.
Must be able to sign the ChristianWorks statement of faith.
*As defined by Board policy in the Statement of Faith, Christian Works defines marriage as an exclusive marital relationship between one man and one woman.
Our Adoption Process:
Preservice
Approval/Waiting Period
Matching
Placement
Post-placement Supervision

AdoptionWorks provides ongoing services to those who have chosen our agency for placement. These services may include facilitating ongoing contact with a birth parent, or with search and reunion services. We also host free support groups for adoptees ages 5-18 and their adoptive parents. These groups are open to any adoptees regardless of which agency facilitated the placement. Visit our Post Adoption Support Groups page to learn more about these free groups.
Additionally, AdoptionWorks provides clinical counseling services to all members of the adoption triad. Families that have completed the AdoptionWorks Support Group session are eligible for a reduced counseling fee.
How much should I expect to pay during this process?
AdoptionWorks fees are competitive with other local domestic adoption agencies in the Dallas/Fort Worth metroplex. Fees will be explained at the AdoptionWorks Orientation.
When is the next session?
Our next AdoptionWorks post-adoption support group will be March 24, 2021 – May 12, 2021. You can learn more here or fill out the Pre-Application form to signup.
How can I learn more about becoming an adoptive parent?
If you would like to learn more about adopting, fill out our contact form or call us today at 972-960-9981, and speak with our Family Development Specialist. If you meet the minimum criteria, you will be invited to our AdoptionWorks Orientation, which will educate you on our agency's philosophy, policies, and procedures.
Contact AdoptionWorks Today!