Each year, Americans observe National Hispanic Heritage Month from September 15 to October 15, by celebrating the histories, cultures, and contributions of American citizens whose ancestors came from Spain, Mexico, the Caribbean and Central and South America.
The observation started in 1968 as Hispanic Heritage Week under President Lyndon Johnson and was expanded by President Ronald Reagan in 1988 to cover a 30-day period starting on September 15 and ending on October 15. It was enacted into law on August 17, 1988, on the approval of Public Law 100-402.
The day of September 15 is significant because it is the anniversary of independence for Latin American countries Costa Rica, El Salvador, Guatemala, Honduras, and Nicaragua. In addition, Mexico and Chile celebrate their independence days on September 16 and September 18, respectively. Also, Columbus Day or Día de la Raza, which is October 12, falls within this 30 day period.
Check out these 4 great children's books to add to your collection to help you and your family celebrate Hispanic Heritage Month.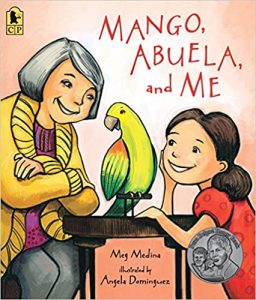 1. Mango, Abuela, and Me
Mia's abuela has left her sunny house with parrots and palm trees to live with Mia and her parents in the city. While they cook, Mia helps Abuela learn English, and Mia learns some Spanish, too, but it's still hard for Abuela to learn enough words to tell Mia her stories. Then Mia sees a parrot in the pet-shop window and has the perfecto idea for how to help them all communicate a little better. Here is an endearing tale that speaks loud and clear about the love that binds families across the generations.
2. Alma
What's in a name? For one little girl, her very long name tells the vibrant story of where she came from — and who she may one day be.
If you ask her, Alma Sofia Esperanza José Pura Candela has way too many names: six! How did such a small person wind up with such a large name? Alma turns to Daddy for an answer and learns of Sofia, the grandmother who loved books and flowers; Esperanza, the great-grandmother who longed to travel; José, the grandfather who was an artist; and other namesakes, too. As she hears the story of her name, Alma starts to think it might be a perfect fit after all — and realizes that she will one day have her own story to tell. In her author-illustrator debut, Juana Martinez-Neal opens a treasure box of discovery for children who may be curious about their own origin stories or names.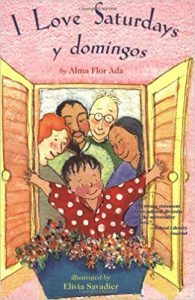 3. I Love Saturdays y domingos
Saturdays and Sundays are very special days for the child in this story. On Saturdays, she visits Grandma and Grandpa, who come from a European-American background, and on Sundays — los domingos — she visits Abuelito y Abuelita, who are Mexican-American. While the two sets of grandparents are different in many ways, they also have a great deal in common — in particular, their love for their granddaughter.
While we follow our narrator to the circus and the pier, share stories from her grandparents' pasts, and celebrate her birthday, the depth and joy of both cultures are conveyed in Spanish and English. This affirmation of both heritages will speak to all children who want to know more about their own families and ethnic backgrounds.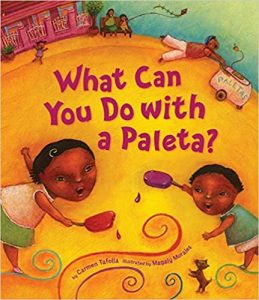 4. what Can You Do with a Paleta?
As she strolls through her barrio, a young girl introduces readers to the frozen, fruit-flavored treat that thrills Mexican and Mexican-American children.
In this bilingual paperback edition, discover the joys of a paleta—the traditional Mexican popsicle treat sold from the wagon with the tinkly bell that brings children running from every direction. Create a masterpiece, make tough choices (strawberry or coconut?), or cool off on a warm summer's day—there's so much to do with a paleta.