I have decided to let you all in on a therapy trade secret. It is my own little room-of-requirement for my counseling practice that I stumbled upon a bit by accident.
Admittedly, it is not an actual room, but a children's book that creates an individualized space for healing and self-exploration, catered specifically to the reader. You and I may read this book and come to vastly different metaphorical conclusions about what the book is "really" about.
Yet at the same time, the magic of this book somehow allows the readers to find common ground with each other. Our problems (or dragons, as the book calls them) in life may all look a little different, but we can empathize with each other on what it is like to experience internal hardship.
You've Got Dragons by Kathryn Cave, illustrated by Nick Maland, is a children's book with a sneakily therapeutic theme, using metaphor and creatively-depicted scenes to describe a boy named Ben's experience with his inner world.
Ben, poor guy, has "dragons."
"Dragons show up when you least expect them," Ben begins, "You turn around, and there they are."
Ben spends his time throughout the narrative sharing his first-person experience of having "dragons" in a raw but delightful manner. By the end, he has become an accidental dragon expert.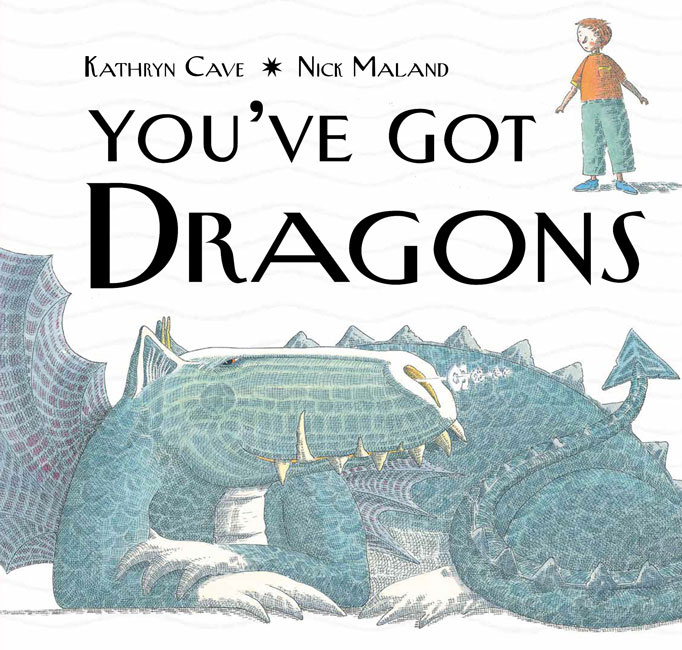 This book was written for children, of course, but the day it truly began to impact my counseling practice was the day I first decided to read it to an adult client.
You see, Ben's "dragon problem" represents a lot more than just a scaly antagonist. We could drop just about any personal struggle in place of the word "dragon" throughout this book and find camaraderie in Ben's story.
Such literary tropes and metaphors as those presented in this book are sometimes lost on children. But when placed in the hands of an adult client in a supportive counseling relationship, this book can create a fresh space for vulnerability and self-exploration.
After all, we've ALL got dragons sometimes. But we often need an opportunity to talk about them. We adults are unfortunately pretty stubborn like that and may need a nudge or two.
"Pretending a huge, great, ENORMOUS dragon isn't there is exhausting. So sooner or later you stop pretending."
I have witnessed grown individuals begin weeping halfway through this book.
Some clients swear that it is clearly written about depression. Or anxiety.
Trauma, maybe,
or an eating disorder.
"Obviously the book is referring to addiction, right?" someone once asked.
Rarely have I had 2 clients assume that this book is referencing the same thing.
You see, when we read it, we are all Ben. We can picture the dragon that is our own. A dragon that probably
"makes your heart thud and your head wobble,"
encourages you to "make silly mistakes,"
"makes everything complicated,"
and
"seems so much bigger than you."
Sound familiar? I guess maybe you have had a dragon before, too. Maybe you even have a dragon right now.
It turns out that the specific identity of the dragon is fairly insignificant because the experiences of having a dragon are pretty similar.
A few things about dragons that this book teaches us:
Completely irradicating a dragon can feel overwhelming or insurmountable, but learning how to coexist with them in healthy ways is achievable.
Sometimes your dragon is big, sometimes small, and sometimes lies dormant.
Hiding your dragon in shame makes you tired and lonely.
Ignoring your dragon can make it bigger.
Naming your dragon and facing it head-on can demystify it.
Facing your dragon alone is not an option.
Sometimes well-meaning people in your life try unsuccessfully to talk to you about your dragon. They over-relate (make it about themselves) or do not understand at all
Sometimes you wonder what you did wrong to get this dragon.
You are stronger than your dragon, even when it doesn't feel like it.
"Nobody deserves dragons You certainly don't. You didn't get them by being bad. All these people have dragons, and they're REALLY, REALLY good."
The book ends with letters from readers to Ben seeking advice about dragons. Even Ben's dad has dragons!
Ways to utilize this book with your kids:
Draw your dragon.

o

What is scary about it? What can we do to make your dragon seem less scary? (For example, add a silly hat or make him dance)

Does your dragon look differently sometimes? Smaller, bigger, etc?

What dragon advice would you ask Ben? Let's write a letter to him together.
Let's pretend you are challenging your dragon to an arm-wrestling match. Tell me what you would say to him while you beat him.
When are times your dragon seems the most fearful or annoying?
Who are safe people to talk to about your dragon?
Ways to utilize this book for yourself:
What emotions came up for you at different parts of the book? Which pages were most impactful? Consider why that may be.
Work with a trusted therapist to discuss what "dragons" you have been ignoring or fearful of.
Remember you are not alone. Who are the support people in your life who remind you are more powerful than your dragon?
"Honor the dragons that you meet and learn from them. They're not as powerful as you think. No dragon is more powerful than YOU."
Cave, K., & Maland, N. (2020). You've got dragons. Peachtree.